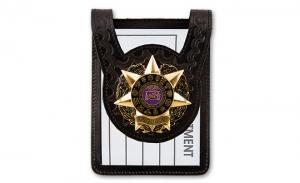 Universal Badge & ID Pocket Case
$22.50
Holds one ID up to 2 7/8" x 4 1/2" (fits standard credit card sized IDs and some larger IDs).
Designed to fit inside a dress shirt pocket with the badge visible in front of the pocket.
Decorative design detailing on front and back of holder.
Badge attaches to holder using a pin & catch.
***************************Badge not included************************************