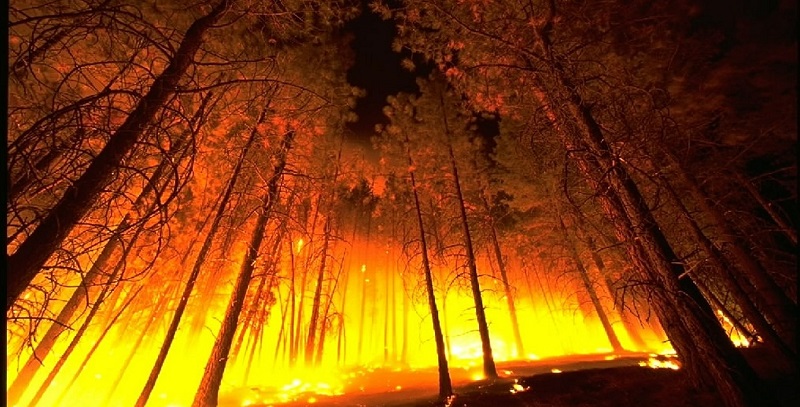 1. Great Fire of New York (1776)
On September 21, 1776, a fire broke out on the southern end of Manhattan. New York City was occupied by British forces at the time and many accused them of starting the fire, while others accused American Patriots of attempting to destroy the city in order to prevent the British from enjoying it. The fire burned throughout the night and destroyed approximately 20% of the city with somewhere between 400 and 1,000 buildings destroyed. No arson charges were ever laid, despite dozens of promising suspects.
2. Great Chicago Fire (1871)
On October 8, 1871, a small barn just off DeKoven Street caught fire at about 9:00 p.m. The cause of the fire is unknown but was widely speculated to have started after someone knocked over a lantern. Because all of the sidewalks, most of the houses, and many of the roads in the city were made of wood, the fire spread quickly, and eventually consumed roughly 3.3 square miles, killed up to 300 people and left 100,000 homeless.
3. Peshtigo, Wisconsin (1871)
On October 8, 1871, Peshtigo, Wisconsin saw the worst fire in U.S history, but it was under reported because it was overshadowed by the Great Chicago Fire happening at the same time. Most of the rural town of Peshtigo was killed in the fire and eleven other communities in upper Wisconsin were greatly affected. The approximated death toll was as high as 2,500.
4. Great Michigan Fire (1871)
October 8, 1871 was an unprecedented day of destruction for the midwest with fires destroying huge parts of Illinois, Michigan, and Wisconsin. One million acres of land were destroyed in Michigan and an estimated 200 lives were lost. The fire in Chicago stole most of the headlines, so the Great Michigan Fire was also largely under reported.
5. Great Hinckley Fire (1894)
On September 1, 1894, several small fires began burning in the pine forests of Pine County, Minnesota. Because of a common lumber harvesting method at the time, branches were scattered on the forest floor, which caused the fire to spread rapidly to nearby Hinckley. Many residents escaped on trains, or by climbing into wells, ponds or the Grindstone River. However, it is estimated that somewhere between 418 and 800 people died, most notably Thomas P. Corbett who was known as the Union soldier who killed John Wilkes Booth after he assassinated Abraham Lincoln.
6. Great Fire of 1901
On May 3, 1901, a pile of mattress stuffing at a fibre factory in Jacksonville, Florida caught fire when sparks from a nearby chimney landed on it. The fire spread quickly due to eastern winds that gained strength. After eight hours, the fire had destroyed nearly 2,500 homes, left almost 10,000 people homeless, and killed seven. Florida Governor William S. Jennings declared martial law and reconstruction began immediately using several state militia units.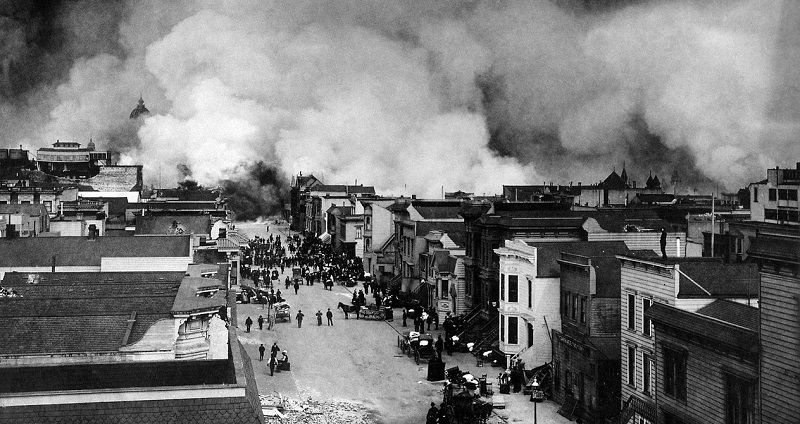 7. San Francisco (1906)
On April 18, 1906, one of the biggest earthquakes in U.S history hit San Francisco just before dawn. It destroyed the city's water mains and caused wide spread fires. Fire Chief Dennis Sullivan was killed in the initial quake, so fire fighters were ill-prepared and without leadership in fighting the rapidly spreading fires. Buildings were destroyed by dynamite in order to create fire breaks, but this was largely unsuccessful and more buildings were destroyed than was necessary. In total, over 25,000 buildings were destroyed over 490 city blocks and 3,000 people died.
8. Texas City Disaster (1947)
On April 16, 1947, a small fire started aboard a cargo ship carrying 2,300 tons of ammonium nitrate at the Port of Texas City. The ship exploded just after 9:00 a.m and set off a chain reaction of fires and explosions on nearby ships and oil storage facilities. A propeller from one of the ships was blown off and found a mile away, two sight-seeing airplanes nearby had their wings torn off and crashed, and the impact was felt as far as Louisiana 100 miles away. 5,000 people were injured, 1,000 buildings on land were levelled, and over 560 people died, including all but one of the local volunteer fire fighters.
9. Yellowstone National Park Fire (1988)
In the summer of 1988, a series of wildfires broke out in Yellowstone National Park. 25,000 fire fighters were dispatched to contain the fire. U.S policy had recently changed as research had proven wildfires to be beneficial for ecosystems, so fire fighters were sent to keep the fire from spreading to tourist attractions within the park. In the end, two million acres (approximately one third of the park) had been destroyed, though, luckily no lives were lost.
10. California Wildfires of 2007
Although California sees many wildfires every year, the wildfires of October 2007 were among the biggest in history. With 1,500 homes destroyed and nearly a million acres of burned land, this wildfire stretched from Santa Barbara County to the U.S-Mexico border. The scope of the fire was so large, it was visible from space. In total, 14 people were killed, and another160 were injured. The fire led to the biggest evacuation in U.S history with approximately one million people forced to leave their homes until fire fighters got the flames under control 19 days after it started.